Luck French Bulldogs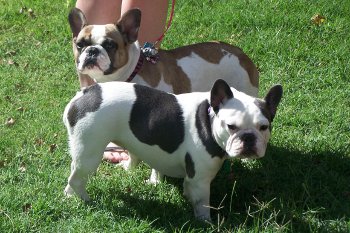 1st... We are French Bulldog Owners ..
2nd.. We are French Bulldog Breeders with years of
........ Experience ..
Luck French Bulldogs is located in Lubbock Texas, Home of the TX Tech Red Raiders. We are a small Hobby / Show Breeder and are pleased to say we have the best and some of the rarest French Bulldogs available. We pride ourselves in having some of the #1 rarest colors in Frenchies. Our French Bulldogs are our family members, they are never caged or kenneled. All of our pets live indoors and sleep with their owners. If you are looking for a healthy, happy, hand raised puppy then look for the Luck puppies.
We have gone to far lengths to get great conformation and well-rounded temperaments. We located the best from California to Dallas. Our Frenchies are well adjusted and get along with other pets and children. Our puppies are played with daily by all family members. They are kept separated from outsiders so that they stay germ free for health reasons.
All our dogs are AKC registered and current on all preventative health care measures. Our dogs have regular vet checks and screenings. All French Bulldog babies leaving our place for their new home will also have the best care and leave with full health checks and screening to comply with our health guarantee. Puppies will have visited the Vet at least 3 times before they're ready to leave home, all puppies leave with a health guarantee. No puppy will leave before they are 8 weeks old and up to date on shots.
We have Extremely Rare colors including Blue,Blue Merle, Blue Pied, Chocolate and Pie Bald or carriers of both. Luck French Bulldogs are the first in Lubbock and Surrounding areas to have these exotic colors.
We are not a Puppy Mill, Pet Shop or backyard breeder. Anything we are in question about and cannot answer we research the information for the knowledge allowing us to inform other French Bulldog owners or potential owners. We DO NOT sell our puppies to Puppy Mills, Pet Shop or backyard breeders. We reserve the right to refuse a sale to anyone for any reason.
There is nothing like a French Bulldog. They are smart, stubborn and extremely loyal. Forget about your privacy, they want to be close and will follow you everywhere. It's their loving personality that makes them so hug-able.